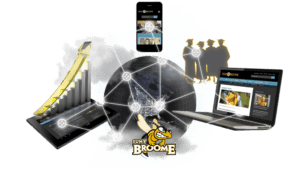 Multi-Factor Authentication (MFA) is now enabled on the MyCollege portal. MFA is a technology that combines something you know (your username and password) with something you have (an email account or cell phone) in order to protect your account from unauthorized access due to phishing and social engineering.
All faculty and staff can now enroll in MFA to protect their MyCollege login.
To begin the onboarding process, login to MyCollege and select the "MyMFA" icon in the left-hand QuickLaunch pane of MyCollege. See the Detailed Instructions for Faculty & Staff on the SUNY Broome ITS webpage.
Current students can also now enroll in MFA, and a separate communication and instructions will be sent out to students.
Please contact ITSupport@sunybroome.edu with any questions or concerns. All feedback is welcome.
Submitted by: ITS
Tags: ITS