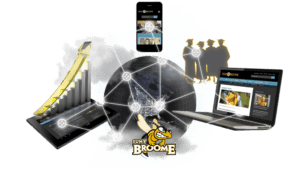 At the End of This Month (May 2021) – SUNY Broome is moving to a more secure MyCollege login using MFA (Multi Factor Authentication).
IF you want to practice how it works, join our practice sessions.
SUNY Operations Center has asked us to roll out MFA logins as they continue to mandate certain security measures for 2021 and beyond.
We are opening up a perpetual IT Services MFA Common Hour Thursdays at 11:00 am and will run for an hour in a Zoom session every Thursday morning for the foreseeable future .
For the next month we will highlight the MFA onboarding procedure and address any potential issues that may arise with using MFA.
We have a 3 Tier access approach:
TIER 1 – Most secure with No Security Questions and No Trusted Device(s)
TIER 2 – No Security Questions, Allowed to Trust Device(s) (trust lasts 30 days)
TIER 3 – All restrictions removed
Come find out what TIER you are in at our open session where we are talking about onboarding and chatting about MFA or any IT issue that you think we can help with.
The zoom session link is here.
The Code to join is not published. (a hint of the code is: Blast OFF!)
********************************
SUNY Broome ITServices – MFA Common Hour is inviting you to a scheduled Zoom meeting.
(MFA = Multi Factor Authentication)
Meeting ID: 951 0715 5249
Submitted by: Jeffrey Hatala
Tags: ITS