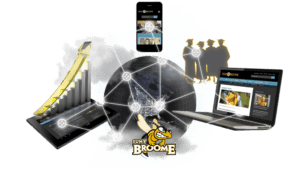 Mozilla Firefox recently announced that security researchers had found a series of critical vulnerabilities in previous versions of Firefox web browser. A new version of Firefox, version 86, has been released to fix these problems. All users should update their Firefox browser as soon as possible. Instructions are included below on how to update Firefox as a standard user.
ITS will automatically install updates to Firefox on all college computers in the coming weeks. This could delete personal web browser settings such as bookmarks and cookies that had been configured in old versions of Firefox. In order to prevent any loss of personal browser settings, please update Firefox before 3/19/21. It is recommended that you export your bookmarks and cookies before updating from old versions of Firefox where automatic updates are not available.
If you need assistance updating, downloading or installing Firefox on your campus PC, please contact ITSupport@sunybroome.edu or submit a CSR.
Update & Install

How to update Firefox
How to download and install Firefox on Windows
How to download and install Firefox on Mac
Bookmarks

How to export bookmarks Firefox
Recover lost or missing bookmarks Firefox
References

Mozilla Firefox Security Advisories for February 23, 2021
Submitted by: SUNY Broome ITS