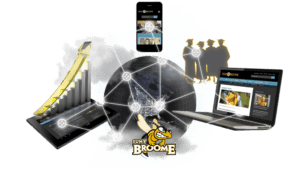 Due to a recent SUNY recommendation for Multi-factor Authentication (MFA), SUNY Broome ITS will be requiring the use of MFA to all college Gmail systems, similar to MFA enforcement on our MyCollege portal. The onboarding process is self-directed. All employees with an @sunybroome.edu email address must onboard by 4/27/22. Accounts that do not onboard by this date may become locked out and users will have to contact IT Support either from another email account sending to ITSupport@sunybrome.edu or by calling +1 (607) 778-5011, in order to onboard MFA to regain access. Students will not be affected by this enforcement.
MFA is a technology that combines something you know (your username and password) with something you have (an email account or cell phone) in order to protect your account from unauthorized access due to phishing and social engineering.
Check out this guide on how to onboard and secure your account. Select "Get started" on the top right of the page to start the MFA onboarding process.
You can review your account security settings on this page. View your current MFA settings, select the "2-Step Verification" tab.
For common questions, visit Google 2-step verification help.
If you have any questions or concerns, please contact ITSupport@sunybroome.edu with the subject "Gmail MFA".
Submitted by: ITS
Tags: ITS